Professor Milan Brandt (2013), Australia
Last change:IAPLE / 2015-08-26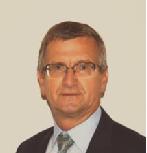 Technical Director of Advanced Manufacturing Precinct
Director of Centre for Additive Manufacturing.
Department of Aerospace, Mechanical and Manufacturing
RMIT University, Australia
Tel: +61 399254197
Email: Milan.brandt@rmit.edu.au
http://www.rmit.edu.au/contact/staff-contacts/academic-staff/b/brandt-professor-milan/
Professor Brandt is a leading Australian researcher in the area of macro processing with lasers and has conducted work in laser cladding, cutting, drilling, welding, assisted machining and more recently additive manufacture. This has resulted in technological achievements, patents, research papers and commercial products, which have been
recognized internationally and nationally in both scientific and industrial circles. He has commercialized the results of his research and also actively promoted the benefits of laser technology to Australian industry through invited presentations, conference papers and industry seminars. Professor Brandt initiated and chaired several international conferences and workshops and has extensive links with many international researchers and organisations. He is a Board member and fellow of the Laser Institute of America and honorary fellow of the Welding Technology Institute of Australia.
Professor Brandt has been involved with materials and manufacturing technologies in particular lasers for some 30 years and is recognised nationally and internationally as the leading Australian researcher in the field. After graduating from Macquarie University he joined the Department of Defence Materials Research Laboratory at Maribyrnong where he was involved in research on novel visible lasers. This led to the construction of a new laser which attracted considerable attention locally and internationally in both scientific and defence communities. In 1986 Professor Brandt joined the CSIRO Division of Manufacturing Technology in Sydney to conduct research on the interaction of laser radiation with materials and the application of this research to laser welding, cutting, surfacing and cladding of materials. This led to the development and commercialisation of a number of new, laser-based products and processes. In 1990 he received a grant from the Division to establish the first Industrial Laser Centre in Australia to further promote laser technology to industry and develop new applications of significant commercial benefit. The Centre became the focus for industrial laser activities in Australia and attracted many industry collaborators.
In 1999 Professor Brandt was invited to join Swinburne University and offered a grant to establish high power laser research activities at IRIS. The research emphasis was on the development of new laser-based products and processes of significant commercial benefit. A major outcome of my research at IRIS is the development of laser surfacing technology for the repair of leading edge of low pressure turbine blades in-situ in collaboration with the CRC for Welded Structures and 11 power generating utilities. The technology was being commercialised through Hardwear, a company he helped established with the CRC for Welded Structures. Hardwear was sold in 2010 to Hardchrome engineering, a Melbourne based company involved in surfacing technology.