Professor Chunlei Guo (2013), USA
Last change:IAPLE / 2015-08-26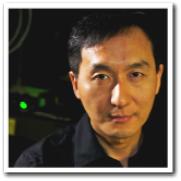 The Institute of Optics
University of Rochester
275 Hutchison Road
Rochester, NY 14627-0186, USA
Tel: +1 585 275-2134
Email: guo@optics.rochester.edu
http://www.optics.rochester.edu/workgroups/guo/about.html

Dr. Chunlei Guo is a full professor in The Institute of Optics at University of Rochester. His research is in the area of femtosecond laser-matter interactions at high intensities. He received his Ph.D. in Physics from University of Connecticut in 1999, and was later named one of the University's 40 Under 40 Outstanding Alumni. His postdoctoral training was at Los Alamos National Laboratory from 1999 to 2001, where his work was awarded the Postdoctoral Publication Prize in Experimental Sciences. He joined the faculty of University of Rochester in 2001.
His research at Rochester led to the discoveries of the so-called Black and Colored Metals, which may find a broad range of technological applications and have been covered extensively by the media (read more). He is an elected of American Physical Society and Optical Society of America. He has authored well over 100 refereed journal articles and has been playing an active role in serving the scientific community; below are some examples:
Publications (click here) He has serviced as:
Editor, Light: Science & Applications (Nature Pub.), 2013-
Editorial board, Laser in Materials Processing and Manufacturing (Springer), 2013-
Section Editor, Optics Encyclopedia (Wiley), 2013 -
Guest Editor, Energy Express Focus Issue on Laser Ignition (OSA), 2013
Associate Editor, Optics Express, 2009-
General Chair: 8th International Conference on Photo-Excited Processes and Applications, 2012
Co-chair: PIERS on femtosecond laser surface nanostructuring of materials, 2012.
Guest Editor, Appl. Phys. B (Springer) 2012-13.
Editorial board, Journal of Nanoengineering and Nanomanufacturing
Editorial board, Laser Chemistry
Chair: The Short Wavelength and High Field Physics Technical Group, Optical Society of America (2005-07).
Chair: Symposium on 20 Years of Chirped Pulse Amplifier (2006).
Vice chair: The Short Wavelength and High Field Physics Technical Group, OSA (2004-2005).