Professor Yongfeng Lu (2013), USA
Last change:IAPLE / 2015-08-26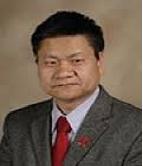 Lott Distinguished Professor of Engineering
Director of Laser Assisted Nano Engineering Laboratory
217N SEC
University of Nebraska-Lincoln (UNL)
Lincoln, USAh
Tel: 402 472-8323
Email: ylu2@unl.edu
http://engineering.unl.edu/ece/faculty/yongfeng-lu/
Dr. Yongfeng Lu received his bachelor degree from Tsinghua University (China) in 1984 and M.Sc. and Ph.D. degrees from Osaka University (Japan) in 1988 and 1991. From 1991 to 2002, he was a faculty in the ECE Dept. at National University of Singapore. He joined the Department of Electrical Engineering at UNL in 2002. He has more than 30 years of experience in laser material processing and characterization. His group has research projects funded by government agencies and private companies, with research expenditures more than $20 million in the past 10 years. Dr. Lu has authored or co-authored over 300 journal papers and 350 conference papers. He has been elected to SPIE fellow, LIA fellow, and OSA fellow. He served as the President of the Laser Institute of America in 2014. He has also served as chair and general chair for major international conferences in the field including the general congress chair for the International Congress of Applications of Lasers and Electro-Optics (ICALEO) in 2007 and 2008, and general co-chair for LASE in Photonics West 2014 and 2015.
Dr. Lu has an extensive research background in the areas of laser-based microscale and nanoscale material processing. He has written over 220 peer-reviewed journal publications and over 160 presentations for international conferences. He has also received a number of national and international awards, including the National Technology Award (Singapore, 1998), Asean Engineering Achievement Award (Asean Engineering Association, 1999), and Laser International Award (Germany, 2000).
Dr. Lu has led the research group that pioneered laser removal of nanoparticles from solid surfaces (commonly known as laser cleaning) and nanoscale patterning by optical resonance in microparticles. He was among the first researchers to theoretically propose a model to explain the behaviors of nanoparticles on a solid surface under laser irradiation and to experimentally obtain subwavelength nanostructures using laser-induced optical resonance in nanospheres. His work encompasses a few important topics including laser writing of subwavelength structures, applications of laser removal of nanoparticles, behaviors of nanoparticles under laser irradiation, theoretical modeling, influence of laser wavelength, and particle removal with assistance of thin liquid films. He has also closely worked with industries and developed a few commercial products for laser etching, laser cleaning, laser cutting and laser surface texturing.