Professor Xiangang Luo (2014), China
Last change:IAPLE / 2015-08-26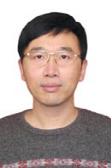 Director of State Key Laboratory of Optical Technologies on Nano-Fabrication and Micro-Engineering
Institute of Optics and Electronics,
Chinese Academy of Science
Box 350, Shuangliu, Chengdu
Sichuan, China
Email: lxg@ioe.ac.cn
http://english.ioe.cas.cn/pe/ss/200912/t20091210_48318.html
Professor Luo received Ph.D from Chinese Academy of Sciences in 2001. From 2001 to 2005, he was a Research Scientist at The Institute of Physical and Chemical Research (RIKEN) of Japan. Professor Luo's current research focuses on Plasmonics, artificially structured materials and subwavelength optics. He has published more than 200 technical papers and 100 patents in optics related fields. He is a Fellow of the SPIE. He has been a Project Leader and Chief Scientist of the National Key Basic Research and Development Program (973) in China, Winner of "National Science Fund for Distinguished Young Scholars", awardee of "100 Talents Program" and Vice President of Sichuan Youth Association for Science and Technology.