Professor Reinhart Poprawe (2015), Germany
Last change:IAPLE / 2015-08-26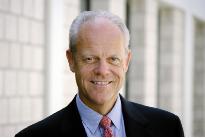 Director of Fraunhofer Institute for Laser Technology (ILT)
Steinbachstr. 15
52074 Aachen, Germany.
Tel: +49 241 8906-110
Email: reinhart.poprawe@ilt.fraunhofer.de
http://www.ilt.fraunhofer.de/en/profile/institute-structure/board-of-directors/professor-reinhart-poprawe.html
Prof. Dr. Reinhart Poprawe, holds a M. A. in Physics degree from the California State University in Fresno which he received in 1977. After completion of his diploma and PhD in physics (Darmstadt 1984) he joined the Fraunhofer Institute for Laser Technology in Aachen where he began working as head of "Laser Oriented Process Development" in 1985. From 1989 to 1/1996 he had been Managing Director of Thyssen Laser Technik GmbH in Aachen. Since February 1996 he has been the Managing Director of the Fraunhofer Institute for Laser Technology and holds the University Chair for Laser Technology at the RWTH Aachen. Currently he is a member of the board in the AKL Arbeitskreis Lasertechnik e. V. Aachen. Prof. Poprawe has been elected to the grade of Fellow in the Society of Manufacturing Engineers in USA (SME) since 1998. In 2006 he became Fellow of the Laser Institute of America LIA and in 2012 Fellow of SPIE. Since 2001 he has been a member of the Board of Directors of Laser Institute of America (LIA) and serves in many national and international boards as an advisor, referee or consultant, for instance at the National Laser Centre of South Africa NLC. During the period of 09/2005 until 09/2008 he was Vice-Rector for Structure, Research and Junior Academic Staff. He still has been chairing the RWTH-International Board, is the Rectors delegate for China, received an Honorary Professorship at Tsinghua University and the Schawlow Award of the Laser Institute of America in 2014 for his pioneering work in the development of Selective Laser Melting (SLM) process that has led to the worldwide application of metal 3D printing. He was elected to President of Laser Institute of America in 2012 and has been the Editor-in-Chief of Journal of Laser Applications since 2010.