Professor Minlin Zhong (2013), China
Last change:IAPLE / 2015-08-26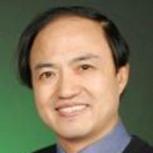 Director of Laser Materials Processing Research Centre
School of Materials Science and Engineering
Tsinghua University
Beijing, China
Tel: +86 1062772993
Email: zhml@tsinghua.edu.cn
http://www.mse.tsinghua.edu.cn/publish/mse/4018/2013/20130411155343453848044/20130411155343453848044_.html
Prof. Minlin ZHONG received his BSc degree in Optical Engineering from Huazhong University of Science and Technology in 1983, an MSc in Mechanical Engineering from Tianjin University of Technology in 1990 and a PhD in laser processing from Tsinghua University in 1997. From 1997-1998, he performed research as a post-doctor fellow in the Laser Centre of French Welding Institute financially supported by French Government, in 1998 he worked at Hannover Laser Centre Germany as a guest scientist. Dr. Zhong majored at Laser Technology in his undergraduate study and then started his career on fundamental and application oriented research and teaching on laser material processing since 1983, as a full professor and director of the Laser Materials Processing Centre at the School of Materials Science and Engineering of Tsinghua University, his research interests cover laser micro-nano fabrication, laser surface engineering, laser 3D printing and novel materials development based on laser technology. During the years, Dr. Zhong has been the project leader for 19 international cooperation projects including British Royal Academy of Engineering, Sino-Germany Scientific Centre, French Government and well-known global companies like GE, GM, Boeing, Royce Rolls and Mitsubishi. He led about 10 domestic scientific projects like China National Key Basic Research and Development Program, NSFC major international cooperation project, NSFC key project. He has performed 40 domestic industrious projects as well. As the results, he has published 107 Chinese papers in Chinese journals, 110 papers in peer review international English journals and 70 papers in international conferences in addition to 18 patents and 4 book chapters. He is the top 5 scientist who published the most Engineering indexed papers on laser cladding recorded by Engineering Village. Cooperated with industries, Dr. Zhong has made some of his research achievements into real industrial applications. He has received awards like "Science and Technology Development" Award by Chinese Automobile Industry in 2001, "Prominent Applications by Promotion of Research Achievements" Award of Tsinghua University in 2003 and "Tsinghua's Freiends" Award in 2000. After working over 20 years on laser materials processing, he focuses on laser micro-nano fabrication in recent 8 years and boosts his publication in high impact international journals. From 2012 to 2015, his group published 61 international peer review papers with total impact factor reaches 286 and average impact factor per paper reaches 4.7.

Dr. Zhong has been active in the domestic and international laser materials processing field. As the former Secretary General of Laser Processing Committee of China Optical Society, he co-organized 9 China national conferences on laser materials processing. He has been the program committee member, session-chair, conference co-chair for many international conferences organized by LIA and SPIE. He was the general conference chair of the third Pacific International Conference on Applications of Laser and Optics-PICALO 2008 and the co-chair of the "International Conference on Laser Processes and Components" in Laser-World of Photonics China in 2006/2007/2009/2010/2011/12. He has given over 40 plenary keynote, keynote and invited presentations in recognized international conferences. Dr. Zhong was elected a Fellow of Laser Institute of America (LIA) in 2010 and a LIA board member at 2005-2007 and 2012-2014. In addition, he was a Senior Member of the Optical Society of China (2002-), a Standing Committee Member of the Laser Processing Committee of the Optical Society of China (2000-), a Board Member of the Beijing Optical Society, a member of the 12th Panel Group of the National Natural Science Foundation of China (NSFC), and a guest Professor of the National Laboratory on Power Beam Processing. Currently he serves as a senior editor of "Journal of Laser Applications" and "Journal of Chinese Lasers", an editorial member of "Light: Science & Applications" (Nature Publication Group) and "Lasers in Manufacturing and Materials Processing" (Springer) and reviewer for numerous international journals.